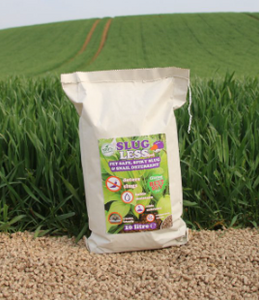 SlugLess® Pet Safe, Spiky Slug & Snail Deterrent is made from Sustainable, Organic British Straw* with added carbon capturing Biochar. As well as helping to deter Slugs & Snails, due to the spiky, dry surface it creates, it also Holds Moisture, Adds Nutrients & Suppresses Weeds.(*Organic Farmers and Growers approved)
It comes in clean, easy to use pellets which are 100% Wildlife Friendly & contain NO chemicals or additives.
SlugLess has a pleasant earthy odour (so will not attract your dog) and is a highly decorative beige colour which darkens over time. It will comfortably last a season, eventually biodegrading into the soil.
Great new 4in1 product, we do love a multitasker!